News
06 Dec 2013

MORGAN MARINE EMPLOYEE HEADS UP 100-MILE CHARITY BIKE CHALLENGE !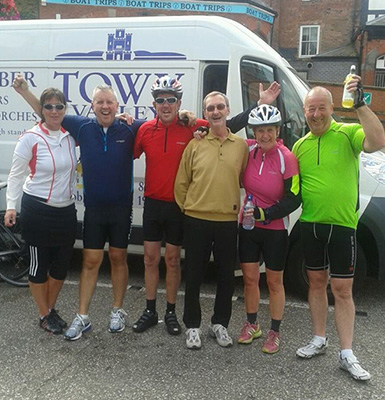 A Morgan Marine employee from Llandybie has cycled from Swansea to Shrewsbury to raise money for two local charities.
Nicolette Lewis, 42, who works as a sales negotiator at the Llandybie based firm Morgan Marine, has raised in excess of £4,500 for local charities Ty Bryn Gwyn Hospice and Cancer Research Wales by cycling the 104 mile route from Swansea to Shrewsbury following her own diagnosis of breast cancer in August of last year.
Married mum of three Nicolette set out to create her own personal challenge in the months following her diagnosis and soon found that she was inundated with requests from friends and colleagues to join her.
As a result the idea of the '100 Mile Club' was established and along with her husband Andrew and ten fellow fundraisers, they cycled the 104-mile journey from Swansea to Shrewsbury.
Now the group of cyclists from the 100 Mile Club, are already planning the next instalment of the '100 Mile Challenge', which will see herself and fellow fundraisers hit the roads again to cycle from Cardiff to Tenby.
Speaking of her fundraising efforts, Nicolette said: "When I was diagnosed with breast cancer I was astounded by the support that I received from my family, friends and colleagues, and it quickly became apparent quite how many people have either been personally affected or know of someone close to them who has cancer.
"Together with my fellow '100 Mile Club' cyclists, we have raised just over £4,500 for two local charities and have caught the fundraising bug so we intend on making it an annual event which will raise even more vital funds for local charities. Morgan Marine's charity committee voted to place their annual budget with the cause and was the largest single contributor."
Back